#StayHome and take care of your hair with this routine at home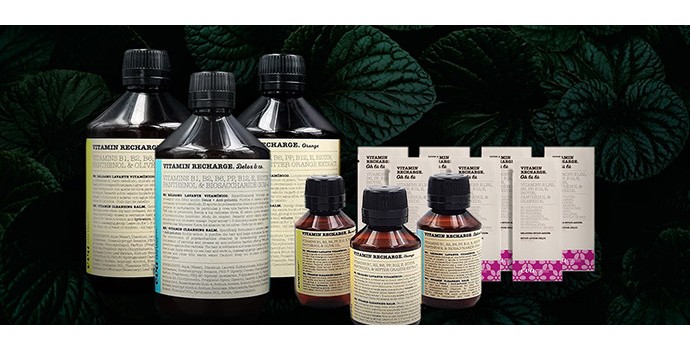 In empathy with these difficult times that we're all experiencing around the world, today we want to share with you a 15-day home haircare routine.
Caring for your body, mind and hair at home
The salons usually in charge of our haircare and treatments recommend that we perform hair maintenance routines at home so that it will be easier to get all our hair, dyes and manes back to normal when we are able to return. But today, as well as beauty, we want to discuss hair health.

Vitamins and increased defences. Protecting the immune system. Detoxifying. Intensive care during these times of enforced confinement.

#stayathome
Now that we're working remotely and creating healthy new routines at home, let's try to look after ourselves as much as possible in every way, and somehow make the most of this period, which will hopefully pass very quickly, affecting as few people as possible.

We're experiencing a stressful time on all levels; our lives and habits have been radically changed and more than ever, we must make an effort to be psychologically and immunologically strong and be as creative and as kind to ourselves as we can. Feeling healthy is the priority. Feeling good about our appearance is undoubtedly a boost, as we can't leave home and enjoy treatments at our hair and beauty salons.


But it's not just about haircare
Experts recommend sticking to a routine, exercising daily and eating healthily five times a day to maintain an appropriate weight. There are countless videos, apps and tutorials for all ages and levels. Wear comfortable yet flattering clothes, don't stay in your pyjamas or sweatpants every day; that lazy, sluggish feeling could become very obvious and keeping your energy and optimism levels high is vitally important right now. Seeing yourself at your best becomes a self-obligation and an act of self-love: put on light make-up with pinky or peachy tones for a healthy appearance. When you look in the mirror, a touch of bronzer will give you the impression of being out in the recently arrived spring air, even though you haven't been able to enjoy it yet. Wash your hair on alternate days and style it every day, as if you were going out. All of this will make you feel disconnected from the outside world, but when it comes to your health and beauty, you're in charge.
One way of feeling in contact with the outside is making daily phone or Skype calls, or joining group chats with Houseparty or similar. This will make you feel connected and in touch with your loved ones, ensuring you don't lose the contact that we all miss so much. When they see you looking well, it will also give them peace of mind. Share these tips with your nearest and dearest too.

20 minutes of meditation, yoga or relaxation, twice a day, are practices that will help you feel a bit more relaxed and strengthen your defences. If you didn't already do them, we're sure that you'll add them to your daily routine forever.

Your body needs pampering and rest, and now more than ever, caring for and beautifying it from the inside and outside is the gift that you must give yourself to get through this period as smoothly as possible. As well as filling your time during these days of confinement, filling them with beneficial things will make you feel good about yourself. Coaches, behavioural neurobiologists, sociologists and psychiatrists all recommend making the most of this time, investing it in you, your health, beauty, home, and culture; things and actions that won't make you feel like you're wasting time. Now, more than ever, investing in yourself is the only safe investment.

If your health suffers exhaustion and stress, your appearance and beauty are also affected. Looking bad on the outside has a negative effect on your mood and therefore worsens the proper maintenance of your defences.

Your hair is always a reflection of your body's health; it's a gauge of your internal condition. Hygiene, rest, drink plenty of water to hydrate your cells and remove toxins.
Use high-quality products to maintain the care that you receive at your usual hair salon and start shock plans like this one: new 15-day haircare routines that you can follow at home.


Haircare routine
Eva Professional Hair Care presents a plan in a wonderful exciting concept created by its specialists: Hairfulness. A concept that asks you to treat your hair as a whole, caring for it in a global way, and being aware of each of the recommended steps to restore and improve its health.
We're usually rushing through life: we get up early, we don't have much time, we jump in the shower, have a quick wash (which is sometimes too quick). Sometimes we do it at night, exhausted from the day, or at the gym after a gruelling class, with queues for the shower and wanting to get home.
We never feel "here and now" with our hair, or take the time needed to give it the care it deserves. That's why we're offering a home spa routine, a moment of intense pampering for your hair. A moment of Hairfulness: a meditation ritual based on caring for your hair.

An extraordinary pack at an affordable price with free products to complement the relaxing treatment routine and enough to last you the upcoming 15 days of isolation.


Vitamin Recharge to the rescue
The company's hair and scalp specialists have created 3 SOS packs to detoxify and oxygenate, increase the hair's natural defences and perform a professional treatment at home. All the essentials for perfect hair.

Just like with your skin, pollution is one of the factors that causes your scalp and hair to age prematurely.

Contaminating agents cause the appearance of Free Radicals, which dirty the hair and scalp, block pores and destroy antioxidants such as Vitamins C and E.

These shampoos, in this case Vitamin Recharge cleansing balsams by Eva Professional Hair Care, have a detoxifying, anti-pollution, purifying and protective action.  The best hair defence during this period.

They have a smart protective UV barrier that shields against the sun's rays; protect against air pollution, particularly carbon particles and other harmful heavy metals; as well as contaminating chemicals at home, for a specific detox and anti-pollution action.

Biotechnology-derived polysaccharides prevent particles from becoming embedded and create an anti-pollution barrier, offering 76% more protection against free radicals. Thanks to its multivitamin complex and specific active ingredients, the hair is incredibly revitalised, which is noticeable from the first wash.

The formulation of these home haircare routines contains the following active ingredients: Multivitamin complex with vitamins B1, B2, B6, PP, B12, E and Biotin, Biosaccharide Gum-4, Olive oil or bitter orange extract (depending on the product). Biosaccharide Gum-4 is a biotechnological active ingredient that instantly ensures deep hydration. It forms a protective film that prevents transepidermal water loss, as well as blocking substances that could cause skin irritation.


Technique, health and beauty in just one product
Discover the "HAIRFULNESS" 15 DAYS AT HOME PACKS by Eva Professional Hair Care.
Start your home haircare routine today with the Hairfulness technique. While you can't leave home, you can order them online and have them conveniently delivered.  

So your hair won't suffer as a result!

VITAMIN RECHARGE ORANGE EXPERIENCE #15dayhairvitamin by #EvaProfessional
BUY:
1 Vitamin Recharge Orange 500ml
GET THE FOLLOWING FREE:
7 sachets Vitamin Recharge OhLàLà 10ml
2 mini Vitamin Recharge Detox&co. 100ml
I love my hair toiletry bag
1 sanitizing gel 100ml
PRICE: 15.99 EUROS
VITAMIN RECHARGE THE ORIGINAL EXPERIENCE #15dayhairvitamin by #EvaProfessional
BUY:
1 Vitamin Recharge The Original 500ml
GET THE FOLLOWING FREE:
7 sachets Vitamin Recharge OhLàLà 10ml
2 mini Vitamin Recharge Detox&co. 100ml
I love my hair toiletry bag
1 sanitizing gel 100ml
PRICE: 15.99 EUROS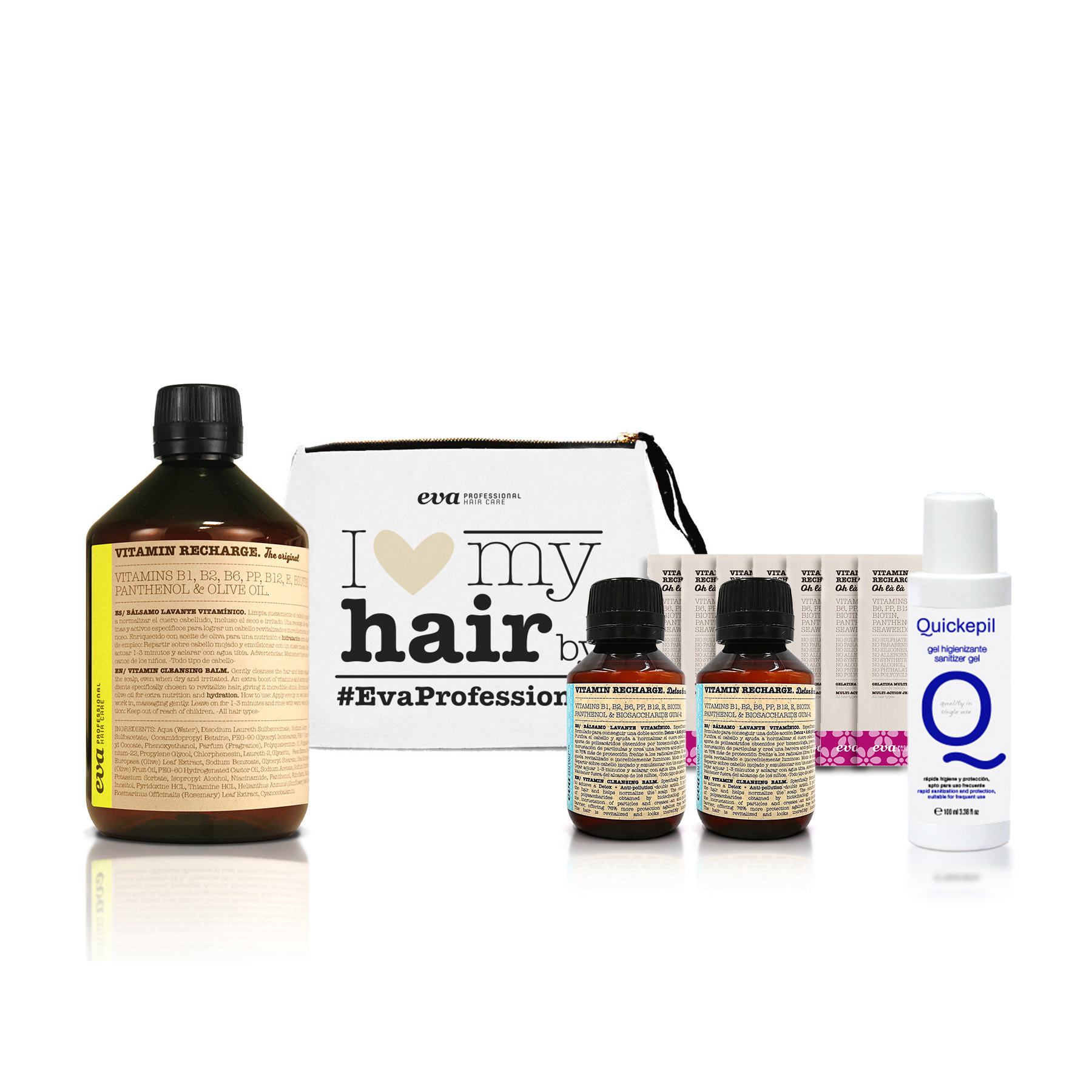 VITAMIN RECHARGE DETOX&CO. EXPERIENCE #15dayhairdetox by #EvaProfessional #EvaHairfulness

BUY:
1 Vitamin Recharge Detox&co. 500ml
GET THE FOLLOWING FREE:
7 sachets Vitamin Recharge OhLàLà 10ml
2 mini Vitamin Recharge The Original. 100ml
I love my hair toiletry bag
1 sanitizing gel 100ml
PRICE: 15.99 EUROS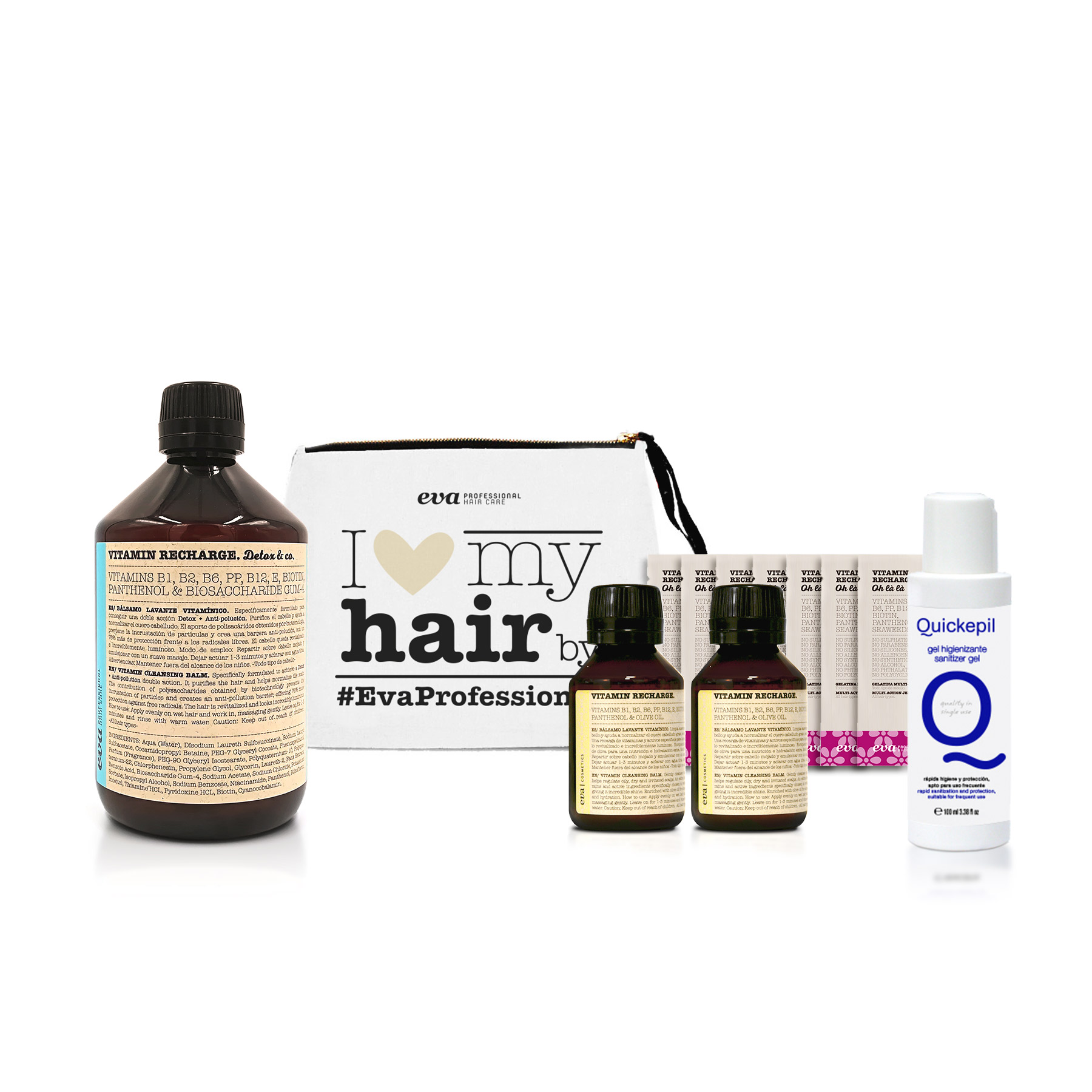 Hairfulness: Your home haircare routine
Choose your time, relax and play your favourite music in your bathroom. Make it your temple for 60 minutes and enter a state of Hairfulness.
Light a scented candle and make a cup of herbal tea to help your body unwind and regulate your heart rate. Take deep breaths to lower your blood cortisol levels, which is released when you suffer prolonged stress.  

If you have it, a lavender, citrus or menthol room spray will benefit you when you take these breaths. Try to empty your mind or think of somewhere you'd like to be: on a beach, on an island, in the woods, sailing, in the jungle, in the mountains... wherever your mind is at peace.

Massage your dry scalp for a few minutes to stimulate the blood flow and energise your hair. This is an essential step; if you don't massage the hair, it stays stuck to the scalp and is less mobile, making it duller and weaker. Massaging your hair makes it more flexible and is the first step towards oxygenating and purifying it. You can do this for 3 or 4 minutes now that you have more time with the #istayathome movement. Use your fingertips and palms to move your hair but don't press too hard on the temples, as these areas have lots of nerve endings. It's best to leave that to the professionals.
It's important to lift and not rub the hair, as that could cause dandruff.
This massage will leave your scalp and hair ready for whichever of the 3 Eva Professional Hair Care routines you choose and help the treatments work in all their glory.

Use the time that you perform this massage to apply a face mask.
Once you have chosen your shock haircare solution, after massaging your hair, you can begin the protocol recommended by the experts.

IT'S HAIRFULNESS TIME!
Hairfulness time!
Here's how to wash your hair perfectly:

Start with a recharge of vitamins and specific active ingredients for revitalised, incredibly luminous hair. Vitamin Recharge The Original is a gem for the most select hair.
PH neutral with a balanced formula. Aromatherapy effect. Especially suitable for dyed hair and sensitive scalps.
The perfect shampoo, or in this case, cleansing balsam has two functions: it deeply cleanses, detoxifying with its purifying agents, and oxygenates the hair, as well as leaving it clean and silky, thanks to its active ingredients.
Wet your hair with plenty of warm water. Although it may be tempting in winter, if the water is too hot, it will dry out your hair. Apply a small amount of the cleansing balsam to the palm of your hand. Rub the product with both hands to activate the treatment molecules, and gently apply it to the roots without piling the rest of your hair onto the crown. This is called "nesting", and as well as not washing the hair as well, it also causes impossible tangles.
Wet it a bit more and when it lathers, spread it through the mid-lengths and tips. Massage the ends so that the product penetrates well. Although it may be tempting to go over the hair quickly, focus on the scalp, as this is where sebum, dandruff and dirt is produced, as well as where grease accumulates, so this is where you should clean the most.
Rinse with plenty of water, ideally at body temperature.
Repeat the process, this time using less product and a shorter wash time.
Rinse again, and if you can stand it, give the hair a final blast with cold water.
Squeeze the excess water from your hair and wrap it in a cotton towel to prevent static. Do not rub your hair; let the towel soak up the moisture.
To damp hair, apply Vitamin Recharge Oh Là Là restructurer and leave it on for 5 minutes. Only apply a little, otherwise it will weigh down your hair. This is a type of beauty elixir for your hair with an anti-breakage, anti-frizz and anti-pollution effect, which is super important at the moment.
It is silicone-, paraben-, sulphate- and allergen free.
This treatment has multiple benefits for your hair, and now, more than ever, it will thank you. Inspired by thalassotherapy, it's an unbeatable experience to pamper the hair fibre for silky hair. Its combination of Vitamins and marine algae detangles your hair in seconds, fully pampering it for maximum hydration, control, repair and protection, leaving it reconstructed. You'll notice more body, a silky effect, plenty of flow, volume and extraordinary shine. 
As you are home at the moment, try to let your hair dry inside. You can use a thermal protector and hairdryer to remove excess moisture.
You can combine the 3 Eva Hairfulness shock treatments to enjoy the 3 benefits. 
Look after your hair, but above all, look after yourself.
#istayathome



In Same Category
Related by Tags
Comments
No comment at this time!
Leave your comment